important news
The call for application for the Water Energy Food Nexus Winter School (WEF)
In the frame of the Center of Excellence for Water (COE) activities, the call for application for the Water Energy Food Nexus Winter School (WEF) organized by the COE is now open for Junior Faculty, Masters and Doctoral students from: Ain Shams, Alexandria, Aswan, Beni Suef, Zagazig Universities ONLY.
The WEF will take place in Cairo from 1 November 2021 to 31 January 2022.
Application: https://bit.ly/3CUFxnV
(Workshops Calls for Water Engineering: Winter School in Water-Energy-Food Nexus 2021); Please register as: Faculty Staff Member or (MSc/PhD) Student.
Deadline for application: 2 October 2021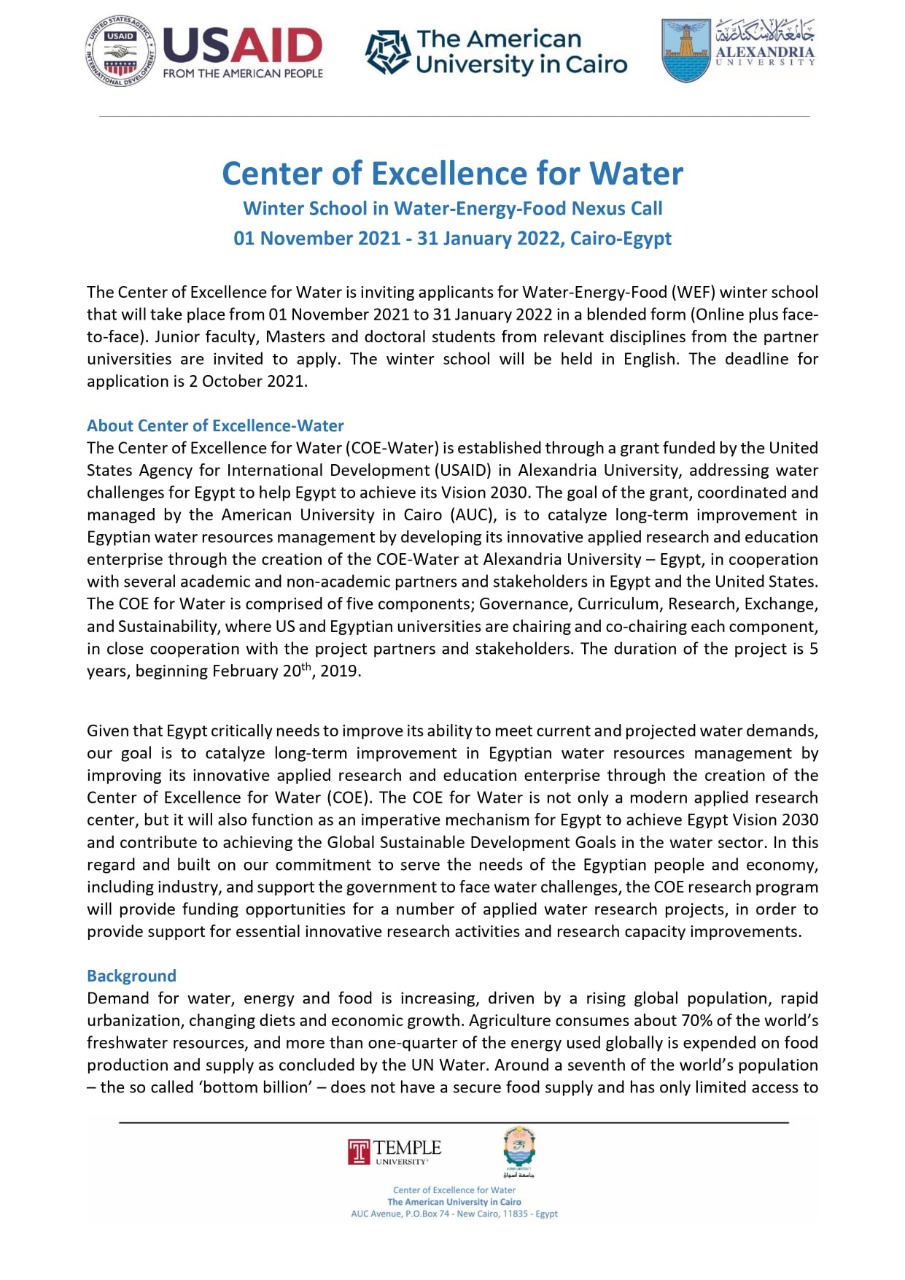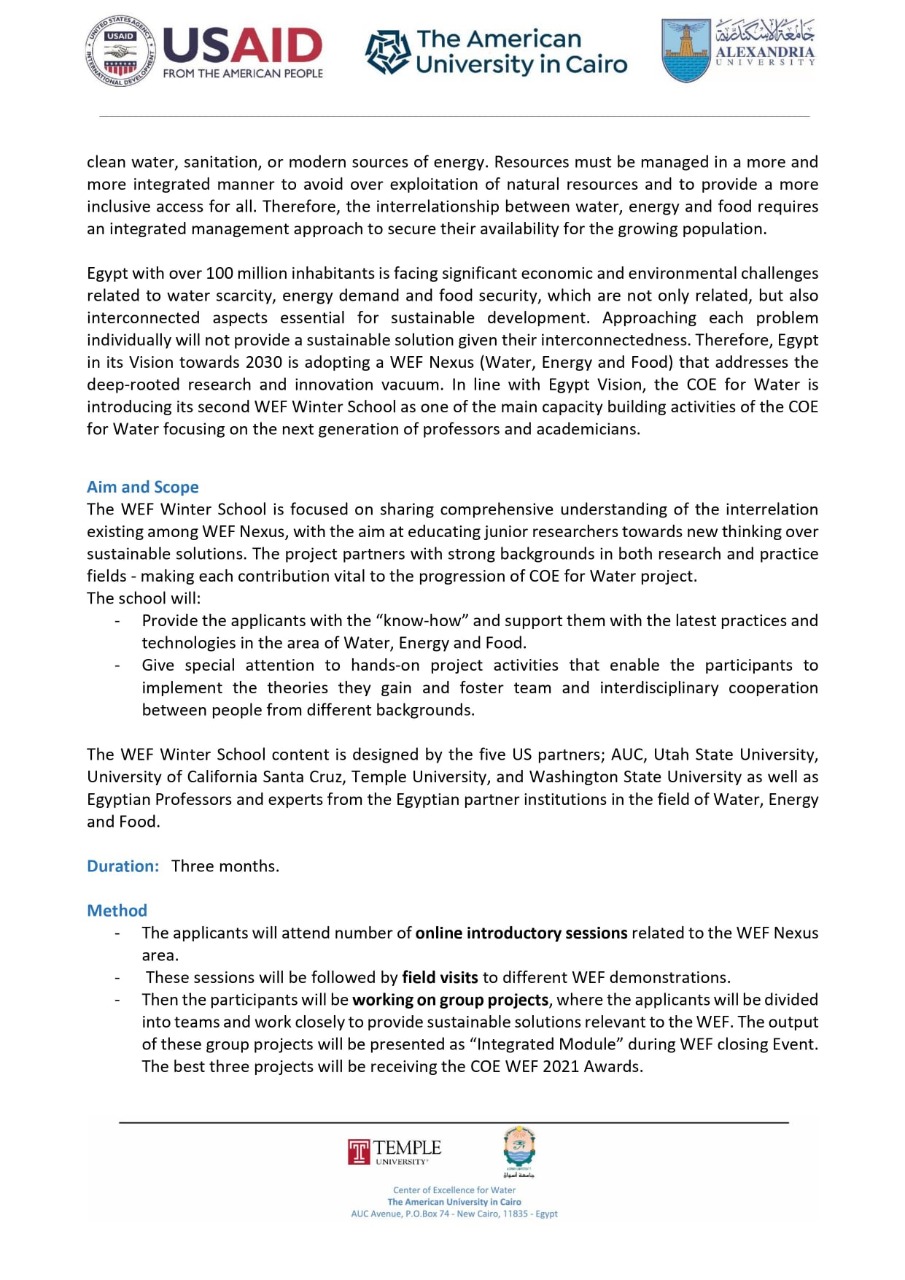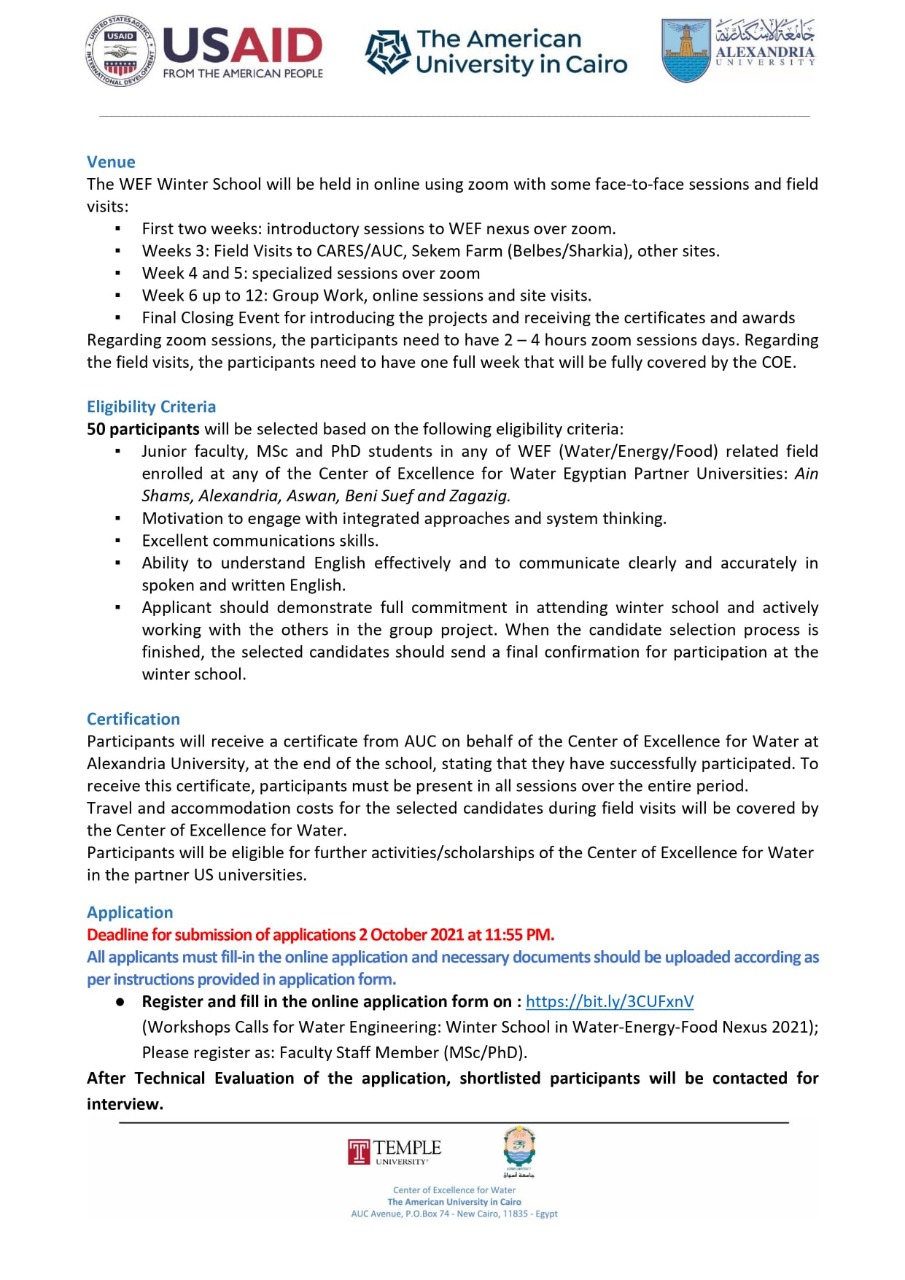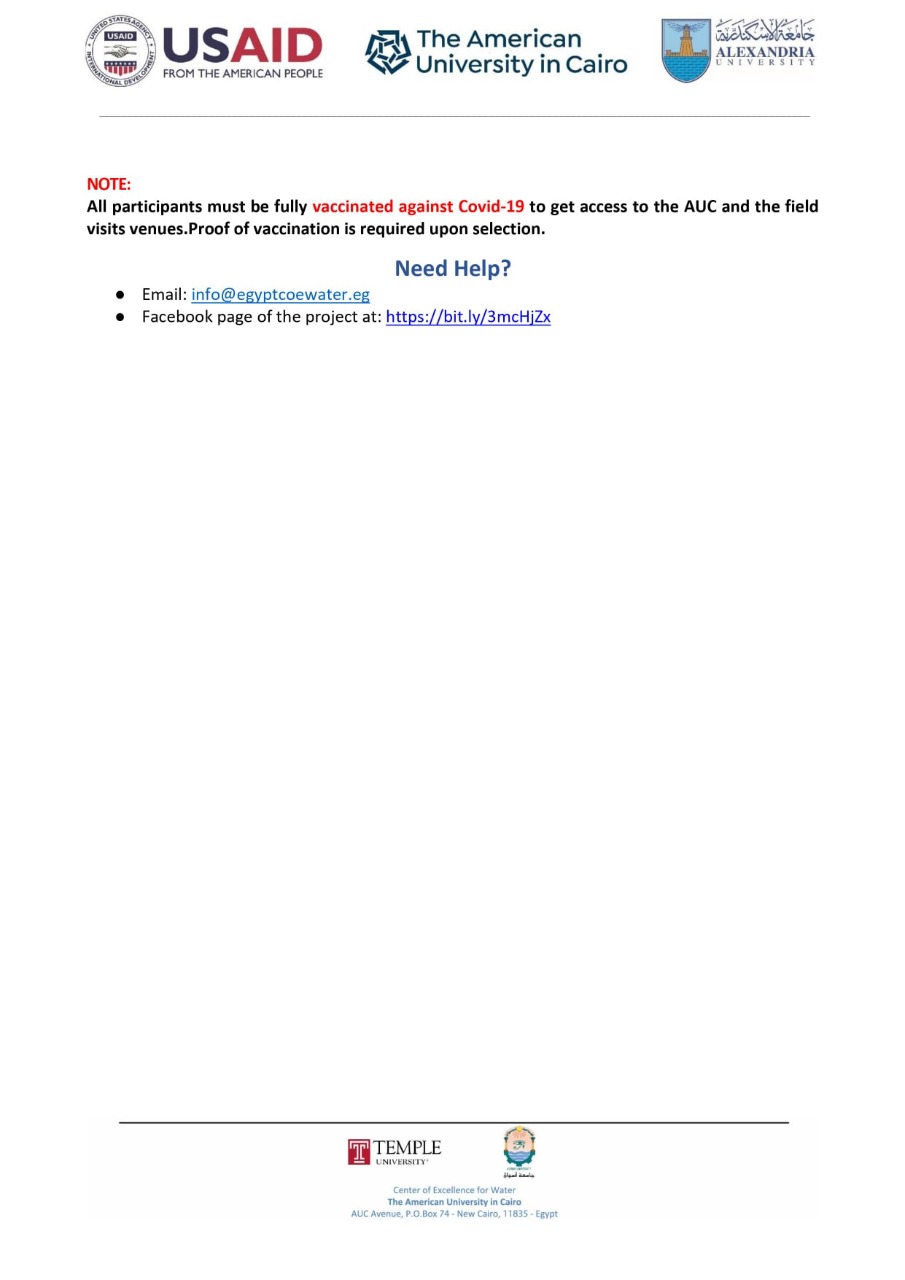 Joint Master of Science Degree in Innovation and Change Management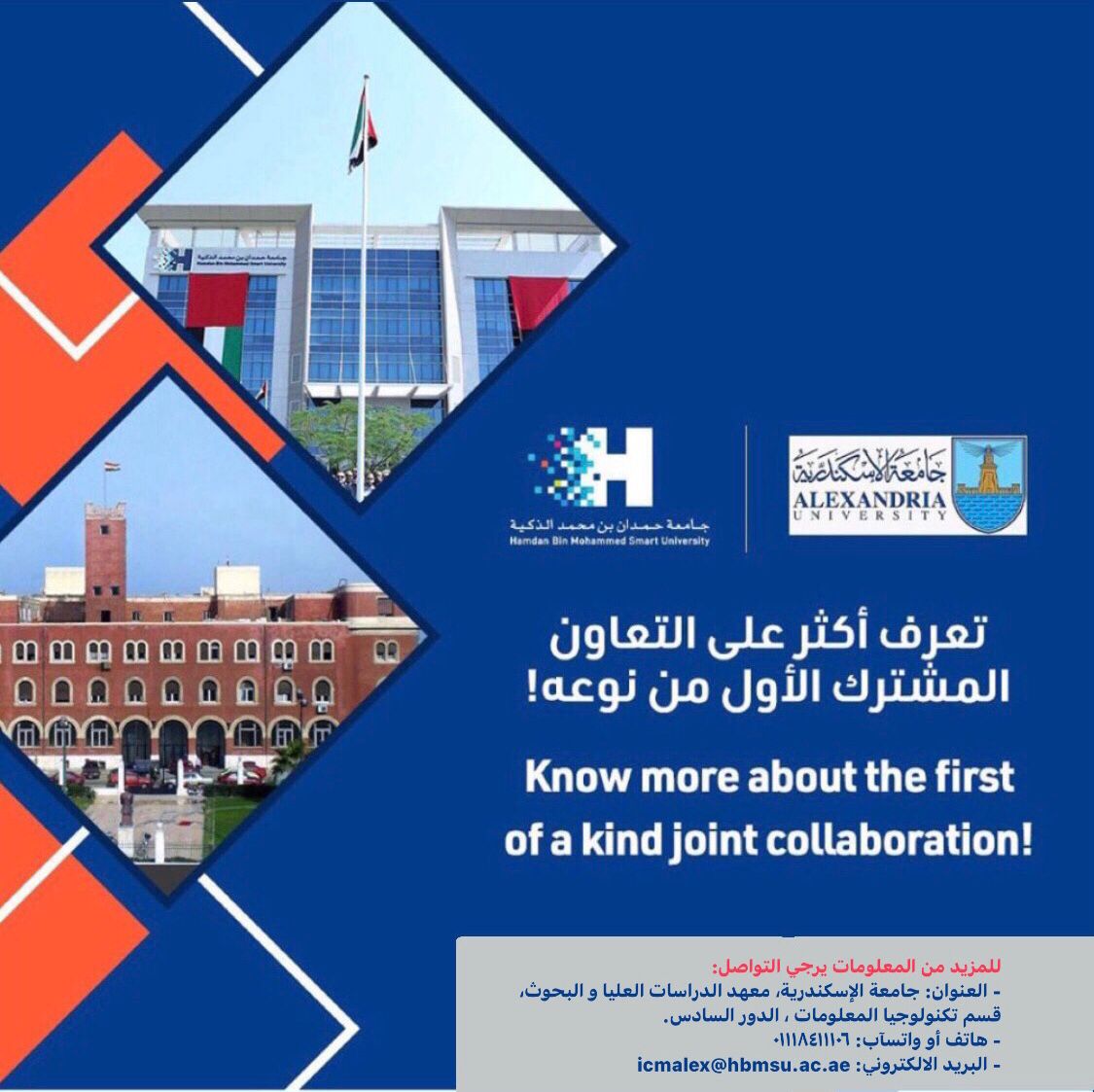 The joint collaboration between #HBMSU in Dubai UAE & Alexandria University in Egypt is the first of its kind in the Arab world, resulting in an academic program that earned accreditation from the concerned ministries of education in both countries; "Master of Science in Innovation and Change Management".
This will contribute to opening a new level of education and support the Arab youth to adopt a modern vision for learning.
Know more about us.
Contact or What's app number:
+20 111 841 1106
Email:
This email address is being protected from spambots. You need JavaScript enabled to view it.
Our program link on Alexandria university official website::
https://alexu.edu.eg/index.php/en/master-degree-in-innovation-change-management
Facebook page:
https://www.facebook.com/JointMScHBMSUAlex
Instagram page:
The Governance and Strategic Planning workshop organized by Washington State University
In the frame of the Center of Excellence for Water activities, we happily announce the call for application for the Governance and Strategic Planning workshop organized by Washington State University that will take place in Cairo from 24 to 29 October 2021.
Application: https://bit.ly/3CUFxnV
(Workshops Calls for Water Engineering: Governance and Strategic Planning Workshop – Please register/sign up: Faculty)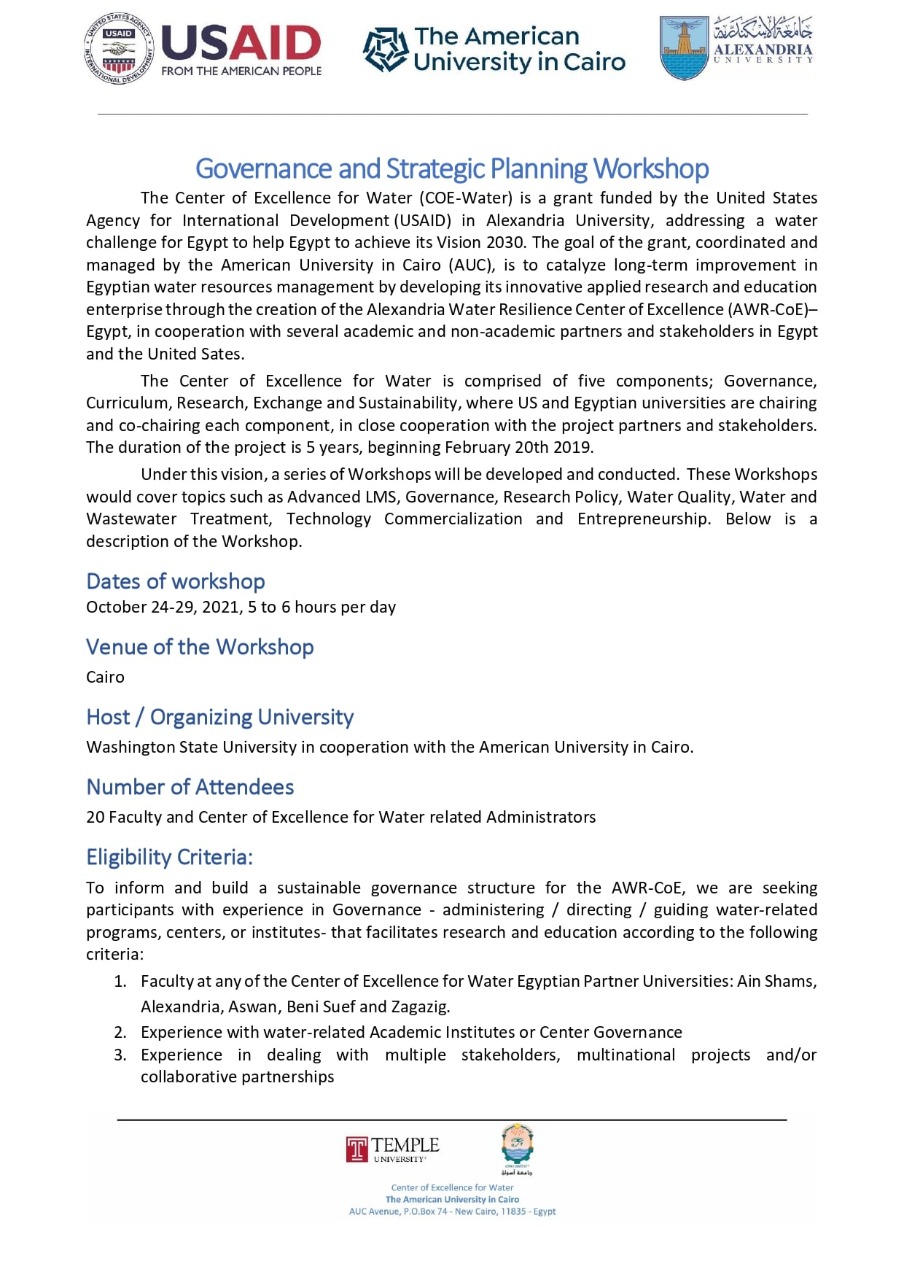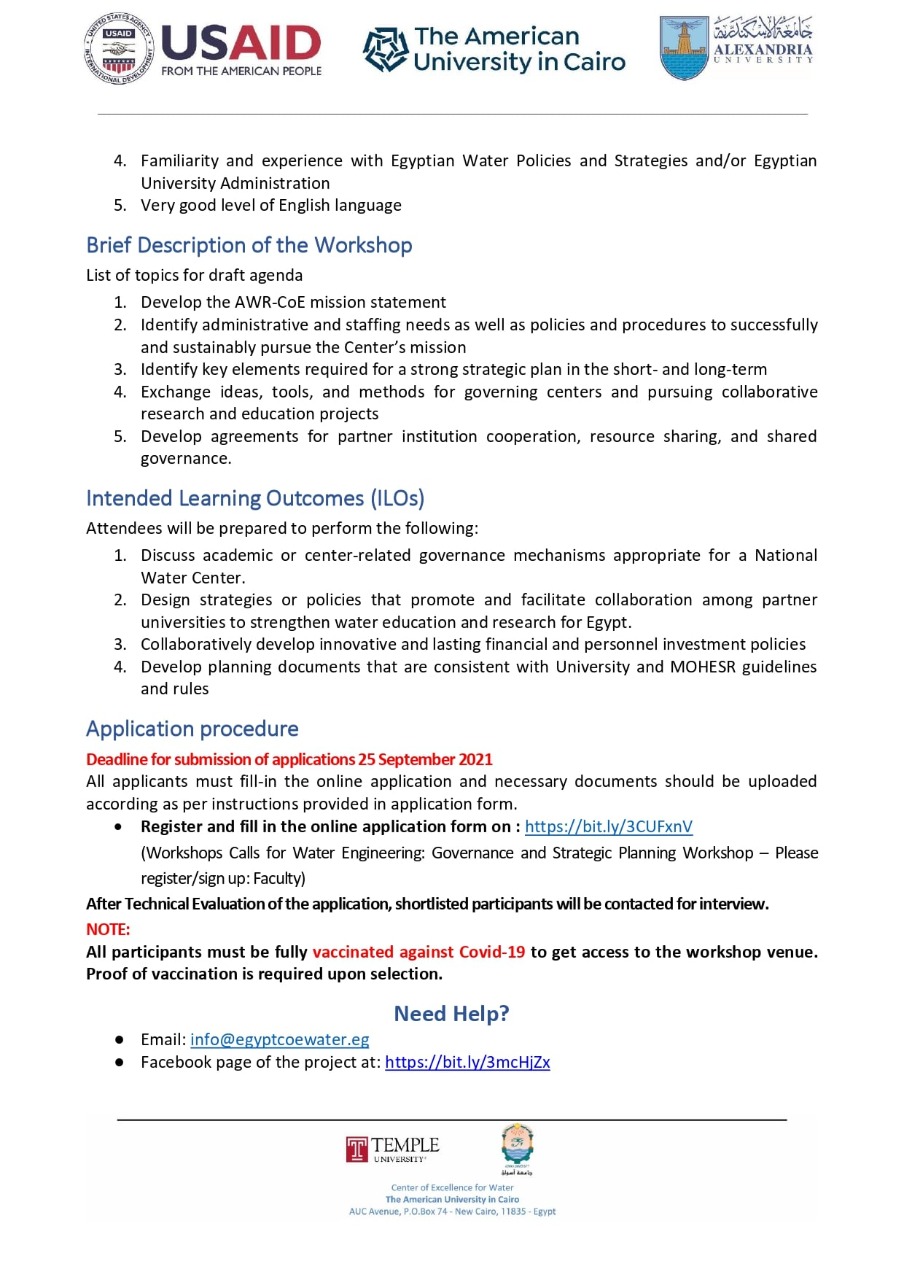 Information session for the water engineering program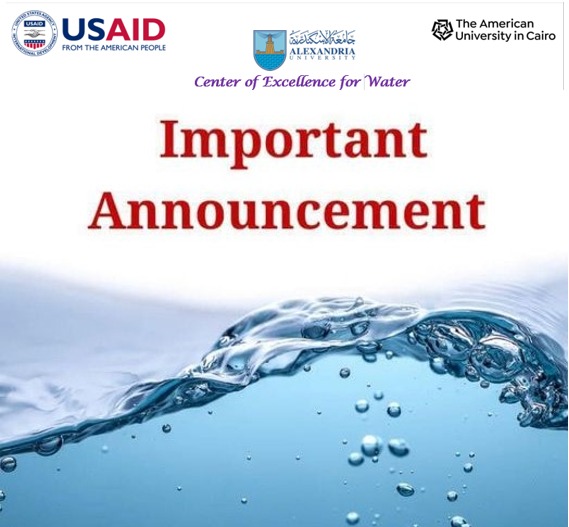 REMINDER FOR UNDERGRADUATE STUDENTS
In the frame of the Undergraduate Scholarship Program to study Water Engineering, an information session will take place via zoom: http://shorturl.at/qyHTV
Date: Sunday 12 September 2021
Time: 7:30 PM (Cairo Local Time)
Call for Faculty Exchange at Temple University (Semester Abroad)
The Center of Excellence for Water is pleased to announce the:
"Call for Faculty Exchange at Temple University (Semester Abroad)"
Duration: one semester
Start Dates: Applicants chose Spring OR Summer semester 2022
Host Institution: Temple University
Number of participants for each semester: 5 faculty
Deadline for application is 2 October 2021 - 11:55 PM CairoTime
Please fill the online application by visiting: https://bit.ly/3CUFxnV
(Semester Abroad Calls for (Graduate Students MSc / Ph.D. or Faculty members) exchange at US universities) – please sign up as a Faculty Staff member (MSc/Ph.D.)