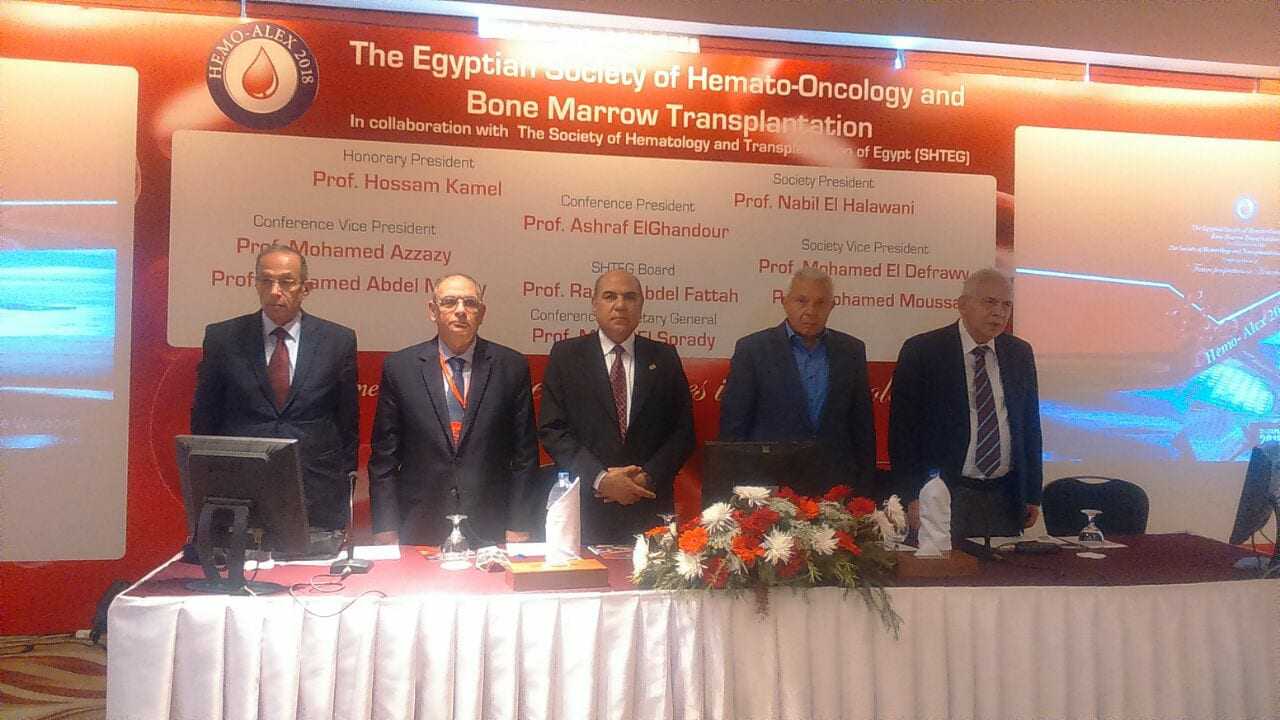 Alexandria University Vice President for Graduate Studies and Research; Dr. Mokhtar Yousef opened the 3rd International Conference of Hematology and Immunology. The conference was organized by the Egyptian Society of Hematology and Transplantation on Thursday 12/4/2018.
In his opening speech, Dr. Mokhtar Youssef stressed the leadership of Alexandria University in establishing the Medical Council to enhance the efforts in the field of health care, scientific research and medical education. He added that the university has established the Blood Diseases Unit in 2010 with 55 beds and Bone Marrow Transplant Unit in 2014 in collaboration with Dr. Hossam Kamel, the former president of Cairo University and his scientific team. He also said that about 100 surgical operation were performed for bone marrow transplantation with a success percent of up to 90% in line with the world average.
Dr. Mokhtar pointed out that Alexandria University has 4,500 beds serving 4 governorates (Alexandria, El-Beheira, Matrouh and Kafr El-Sheikh) with a population of than 15 million. He added that 55,000 surgical operations were performed and about 1 million cases were treated in outpatient clinics in 2017.
Dr. Manal El-Sarady, Head of the Transplantation Unit and Secretary General of the Conference, said that the conference includes lectures on the new in diagnosis and treatment of blood diseases and bone marrow transplant where professors and scientists from Spain, Italy and Denmark in addition to Egyptian professors will participate. The conference will also present and discuss some difficult clinical cases. Dr. Manal added that workshops will be held to train young doctors on bone marrow transplantation under supervision of professors and experts to transfer the experience and prepare new generation in this important medical specialization.
The conference was chaired by Dr. Ashraf Ghandour; the Vice Dean of the Faculty of Medicine and attended by Dr. Hussein Khaled; former Minister of Higher Education Dr. Hossam Kamel; former president of Cairo University, Dr. Nabil El Halawani; the President of the Society of Hematology and Bone Marrow Transplantation and Dr. Rafiq Khalil Chief of Physicians Syndicate in Alexandria.