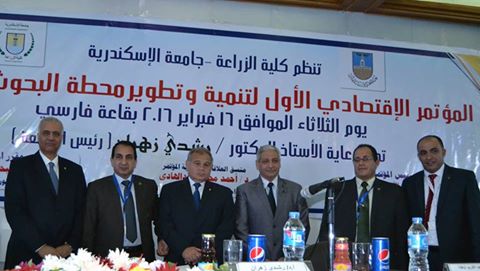 Prof. Dr. Rushdi Zahran, President of the University of Alexandria,  called for concerted efforts of professors and researchers with the Administration of the Faculty of Agriculture to establish a workable development projects in the farms of the Faculty, in Abis and Al Hammam areas, so as to contribute effectively in adding a productivity value to the sector of food products in Egypt.
He expressed his hope in the development of an integrated strategy for the vision of the Faculty in cooperation with agriculture, industry and business sectors along with presenting it to the University Council for approval to be one of the projects adopted by the University. That is to contribute in the development of its own resources and achieve greater contribution to the financing of future University projects and reduce the economic burden of the state.
The President of the university asserted on the importance of partnerships with various business and industry sectors of society for the advancement of agricultural production, which aims to bridge the food gap. He also expressed confidence in the ability of professors and scholars of the Faculty of Agriculture in bringing about a quantum leap by their experience at the local, regional and global levels in the development of food production.
This came during the opening of First Economic Conference for the Development of Agricultural Research Station, Faculty of Agriculture, on Tuesday morning, February 16th.
Prof. Dr. Abdullah Zin El Din, the Faculty Dean and President of the Conference, confirmed that the conference aims to develop an investment map for the re-planning and development of units of agricultural research of the Faculty for the twenty upcoming years.  That is through scientific and practical visions being formulated with the visions of professors, scientists, researchers, and businessmen and industry participants in the Conference to maximize the economic return of the farms while maintaining them as a training research guiding unit.