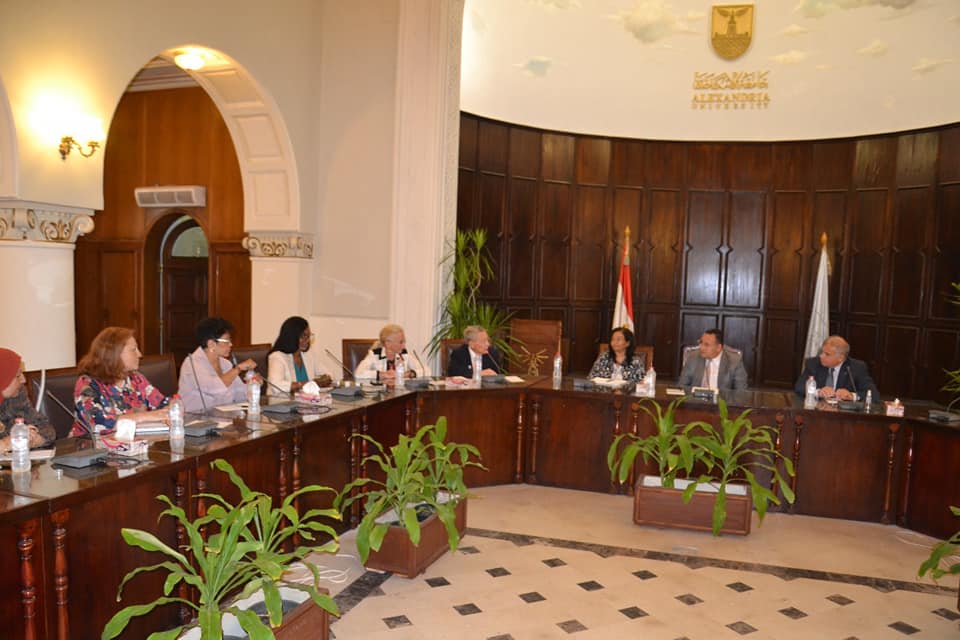 Prof. Dr.Abdelaziz Konsowa, President of Alexandria University, received this morning, (Sunday 11th of July 2021) , two American delegations from the American universities of Ocean County, headed by Dr. John Larson and New Jersey City university, headed by Dr. Sue Henderson, and the accompanied delegations, to discuss ways of cooperation with the two universities, and the necessary executive steps to implement the program Community colleges in cooperation with the American Ocean University, starting next January, in the presence of Dr. Rouchdy Zahran, former president of Alexandria University, Dr. Sameh Shehata, supervisor of the International Relations Office at Alexandria University, and Dr. El-Sayed El-Seify, Dean of the Faculty of Commerce.
At the beginning of the meeting, Dr. Konsowa confirmed that the University of Alexandria is keen on supporting scientific cooperation relations with the United States of America, to benefit from American experience , and strengthening the partnership between the two sides through joint academic degrees at the undergraduate and postgraduate levels in areas of interest to both sides especially in the field of business administration, data science and public health, he also indicated the possibility of cooperation with the Capacity Development Center for Staff Members which provide programs to refine and develop the skills of faculty members at Alexandria University.
The presidents of the two American universities presented the available programs, the advantages of each program and the proposed study methods.
Dr. Maysa Abu Youssef, Director of International Relations at Ocean American Community University in New Jersey, indicated that the joint programs with Alexandria University aim to link graduates directly with industry, and meet the needs of the jobs of the Fourth Industrial Revolution. The academic system depends on studying for two years at the University of Alexandria, after which the student obtains a certificate in the field of specialization from Ocean University. This academic system also gives the student the opportunity to choose the study system, develop his skills and gain various experiences during and after university studies, which qualifies him to join the modern labor market.
On the other side, the President of New Jersey City University affirmed her country's commitment to cooperate with Alexandria University through joint degrees in the programs determined by the two sides. The New Jersey City University also supports establishing new programs in the field of business administration, artificial intelligence, computer applications, health and other fields needed by the Egyptian labor market.