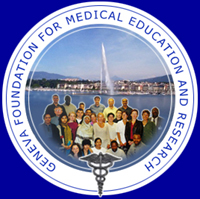 Alexandria University and the Geneva Foundation for Medical Education and Research (GFMER), announce the online training Program "Impact of Environmental Pollutants on Reproductive Health", from August to November 2020. This training course is intended for a range of environmental and public health professionals who are interested in understanding the reproductive health risks associated with environmental hazardous exposures and how to assess them. The underlying goal of the training program is to provide the technical knowledge and skills necessary to explore the complex relationship between hazardous environmental exposures and risks to reproductive health. This international training program gathers the participants from different countries to develop a team of trainees acquainted with these critical issues and capable of resolving their implications in their countries.
Training Program Goals:
To provide distant education for those who want to acquire knowledge in their field but have limited access to training due to time, location and/or financial constraints.
To exchange experiences among the participants as well as research institutions by creating a network and training background.
To develop different types of skills as cognitive skills, which can involve knowledge and comprehension (e.g. understanding scientific concepts), following instructions (procedural skills), as well as applying methods in new situations to solve problems (thinking or mental skills).
To increase sharing of competence and knowledge between health professionals in developing countries and local and international health and training institutions.
To offer high-quality instruction through online facilities that include a broad range of information, integrating course content with information resources on the Web.
To deliver a significant amount of content to a large number of learners; Collaborative activities range from discussions and knowledge-sharing to working together on a common project.

To provide Social software, such as chats, discussion forums and blogs for online collaboration among learners.
Those interested in participating can receive more information through the website for the training program: http://ieprh.alexu.edu.eg where the training program brochure and the application form can be found.
The cost of the course is 150 USD. The deadline for applications is 30 December 2019.