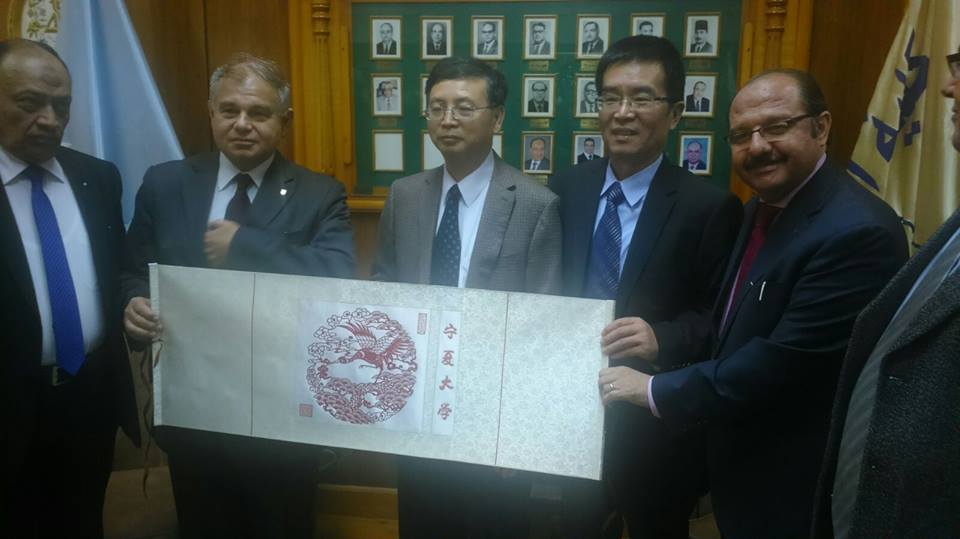 Rushdi Zahran, President of Alexandria University has recently attended the graduation ceremony for a new batch of Chinese students studying Arabic language in the Faculty of Arts. The ceremony was attended by a high-level Chinese delegation including the President of Ningxia University, Dean of the Faculty of Arabic Studies in Ningxia University and the General Consul of China in Alexandria.
The two sides stressed their desire to consolidate a strong links between Egypt and China and underlined the need to strengthen the relations through the student exchange between the two universities in fields of applied sciences and cooperation to establish a department of Chinese Language in the Applied languages Institute of the Faculty of Arts.
The celebration was attended by Prof. Dr. Seddik Abdul Salam, Vice President of Alexandria University for Graduate Studies and Research, Prof. DR. Essam Kurdi; University Deputy for Community Service and Environment Development, Dr. Hesham Gaber; University Deputy for Education and Student Affairs, Prof. Dr. Abbas Soliman; Dean of the Faculty of Arts and Prof. Dr. Nivine Khaled; Faculty Deputy for Graduate Studies and Research in addition to faculty members of the faculty.