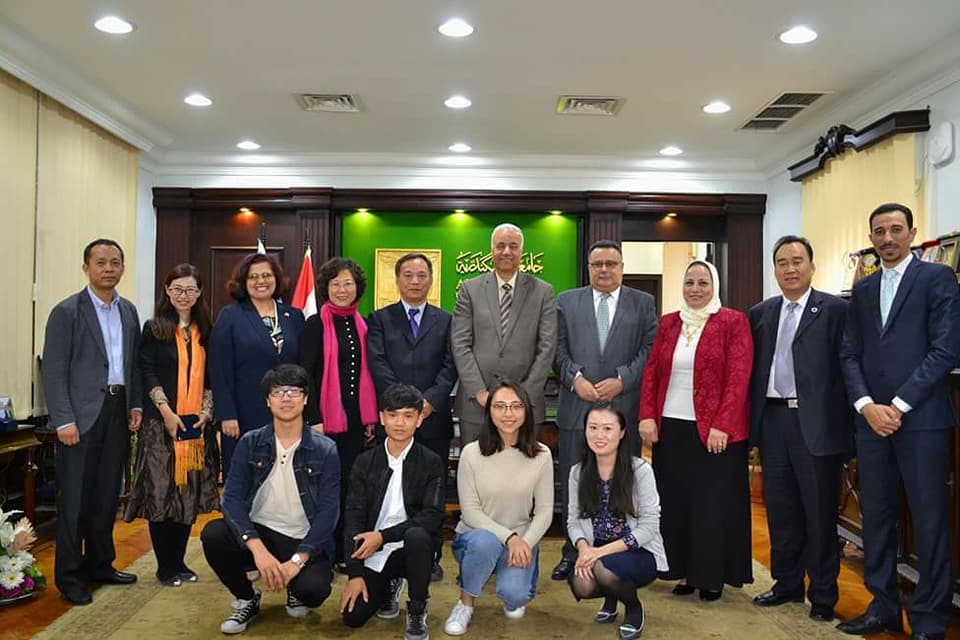 Dr. Essam El-Kordi, President of Alexandria University and Dr. Hisham Gaber, Vice-President of the University for Education and Students Affairs, received on Tuesday 13/3/2018 a delegation from the University of Ningxia of China to discuss ways of boosting cooperation between the two universities and increasing the number of Chinese students at Alexandria University. And joint research projects in different scientific fields. During the meeting, Dr. El-Kordi stressed the university's keenness on expanding cooperation between the two universities and adding new fields. The study in the Chinese studies department at the Faculty of Arts will begin in September this year after completion of all necessary approvals from the Ministry of Higher Education and Scientific Research.
Dr. Ghada Mousa, Dean of the Faculty of Arts, pointed to the possibility of cooperation through receiving professors from the University of Ningxia to teach Chinese language and the development of the Library of the faculty and provide them with the necessary scientific references and books as well as the possibility of cooperation with the Center for Languages ​​and Translation, which provides certificates in the field of study ​​Italian & Spanish languages.
Dr. Lena Habib, director of the Center for the Teaching of Arabic Language for Foreigners in the Faculty of Arts, explained that since 2015, the center has started to receive 20 students per year and now receives 50 students annually, in addition to postgraduate students, who can now pass international tests in Arabic with high efficiency.
The Chinese side also expressed its happiness with cooperation with the University of Alexandria and the possibility of cooperating in the establishment of a joint research center to promote this cooperation.
The delegation listened to the views of the students of the Chinese University of Ningxia - Faculty of Arts. They expressed their happiness with this experience, which helped them to learn Arabic language, to practice various activities and to attend exhibitions and seminars that contributed to their integration into the Egyptian culture and environment.