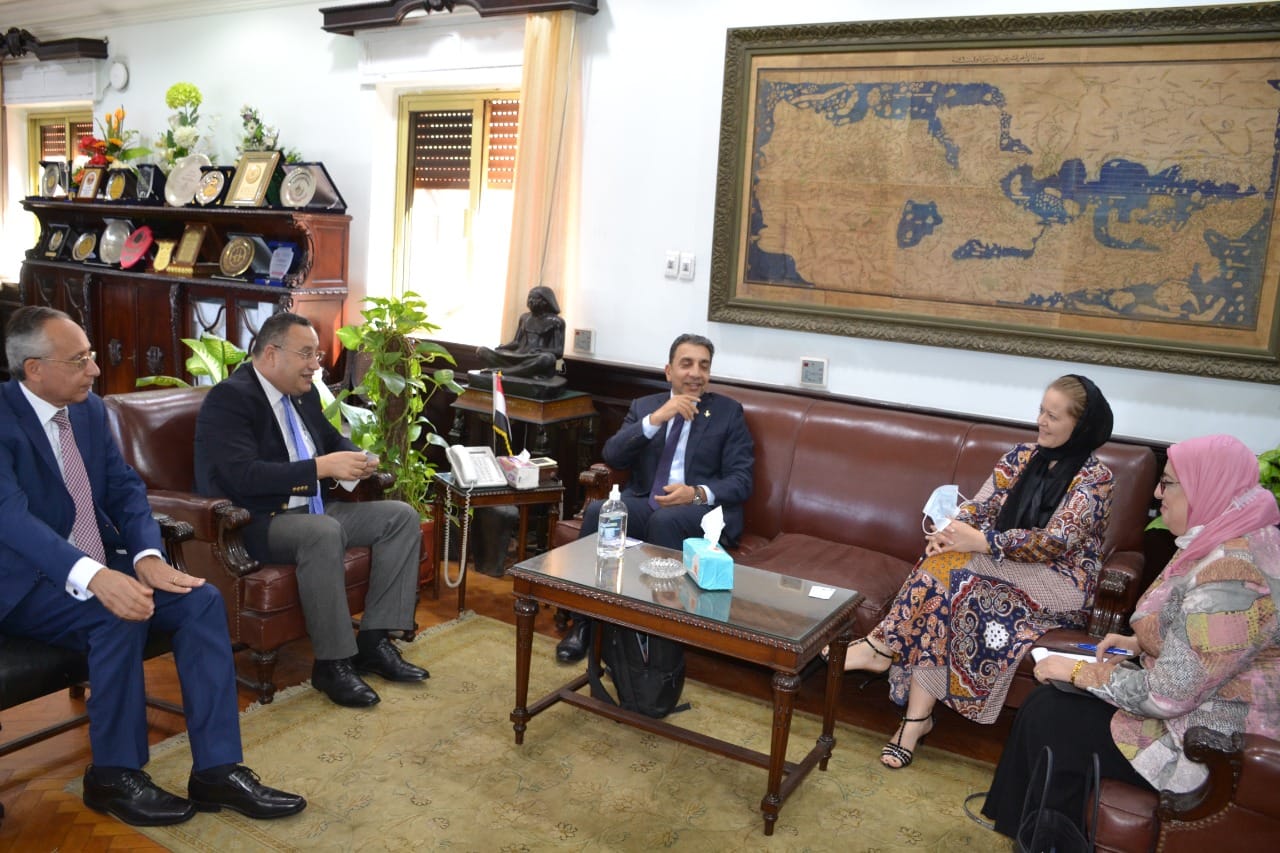 Dr. Abdelaziz Konsowa, President of Alexandria University, received Dr. Diaa El-Gamili, Professor of Artificial Intelligence and Dean of the Faculty of Engineering at Liverpool University in Britain, and Dr. Jamila Mostafina, Head of the Research Technology Center at Kazan University, Russia, in the presence of Dr. Ashraf El-Ghandour, Vice President for Postgraduate Studies and Research Nefertiti Zaki, Dean of the Faculty of Nursing, Alexandria University.
In his speech, Dr. Konsowa stressed the keenness of Alexandria University to cooperate with prestigious international universities in the modern and advanced scientific and academic fields, explaining that the meeting dealt with ways of joint cooperation, and the possibility of Alexandria University's participation in the "Liverpool Remote Telescope" project to find solutions to treat serious and incurable diseases. The meeting also included The possibility of student exchange and joint scientific degrees between the two universities, in order to develop the medical sector system through the use of artificial intelligence, and create smart technology with the help of doctors and the nursing staff in the work to achieve it better. He added that the university had achieved many achievements in the field of education and scientific research, and had introduced many new disciplines according to the latest educational systems abroad in the fields of artificial intelligence, entrepreneurship, medicine, engineering and science, through scientific agreements with European and American universities to grant joint degrees, whether At the undergraduate or postgraduate level, or In the field of joint research in some applied fields, which contributed to the university's access to advanced positions in international classifications. Dr. konsowa also confirmed that a study is underway to establish a joint cooperation between Alexandria University and 4 Iraqi universities, namely the universities of Kufa, Qadisiyah, Basra, and Tal Afar.

While Dr. Diaa Al-Jumaily confirmed that Alexandria University will be a great addition to the "Liverpool Remote Telescope" project, being the best university in the Middle East, and has a large group of scientists and researchers in all scientific disciplines, and will contribute significantly to the development of this great global project.

Meanwhile, Dr. Jamila Mostafina expressed the willingness of Kazan University, in cooperation with Alexandria University, in various academic and research fields, especially the field of artificial intelligence and entrepreneurship, and to conduct joint research in the health, nursing, engineering and medicine sectors, and exchange of students and faculty members between the two universities.