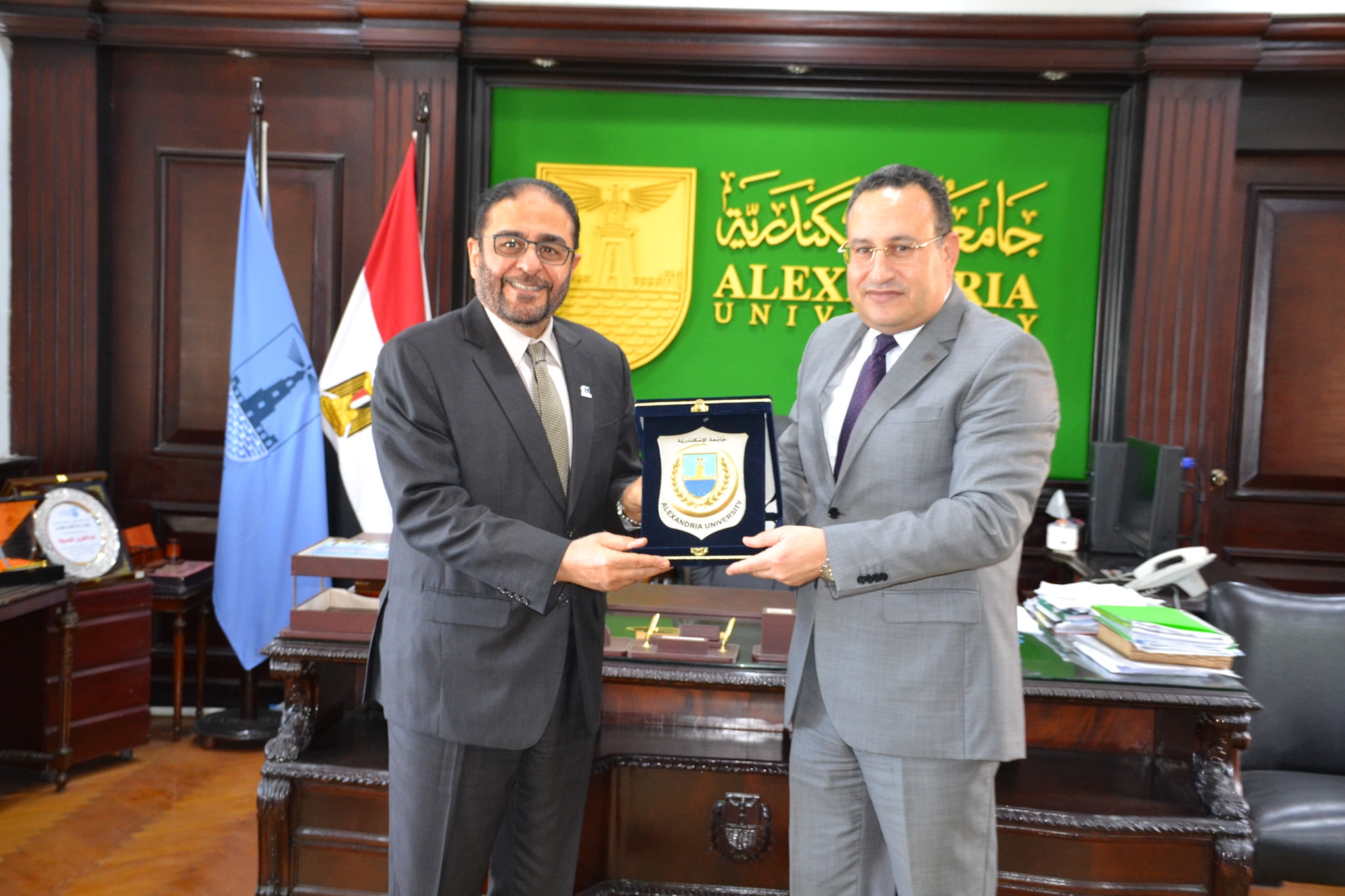 Dr. Abdelaziz Konsowa, President of Alexandria University, received yesterday evening, Dr. Mansour Al Awar, President of Hamdan Bin Muhammad Smart University in the United Arab Emirates, and his accompanying delegation, in the presence of Dr. Ashraf Al-Ghandour, Vice President of Alexandria University for Graduate Studies and Research.
The visit comes as an activation of the continuous cooperation between the two sides, the strengthening of the bonds of scientific cooperation and knowledge exchange, access to the academic programs and courses at the University of Alexandria, and the activation of the Master's Program in Innovation and Change Management.
During the meeting, Dr. Konsowa stressed that the program for managing Innovation and change between the two universities aims to raise the level of education and support Arab youth to adopt a modern vision in entrepreneurship, pointing to the importance of entrepreneurship in shaping the future of the Arab world economy, by creating and developing a knowledge economy, and supporting Arab youth from By adopting a modern vision in education.
For his part, Dr. Mansour Al-Awar, President of Hamdan bin Mohammed Smart University, expressed his happiness to visit his second homeland, Egypt, which comes from the keenness of Hamdan bin Mohammed Smart University to consolidate cooperation with Alexandria University, which is rich in expertise and distinguished academic history at the local, Arab and international levels. During the visit, Al-Awar discussed the most important academic programs and courses at Alexandria University, and discussed how to benefit and transfer scientific expertise between the two sides, especially in the field of higher education and smart learning, stressing that one of the goals of Hamdan bin Mohammed University is to support leadership programs, institutional excellence, and e-learning.
After the meeting, the presidents of the two universities headed to the faculty of Economic Studies and Political Sciences to hold an introductory meeting on the Master of Innovation and Change Management with researchers and applicants for registration in this program. Hamdan bin Mohammed University Smart Programs in Alexandria to respond to all inquiries related to the program.